As continuous improvement of reagents is part of Stago's strategy, we are pleased to announce our new PT reagent from Stago: STA-NeoPTimal.

For further information, visit the official STA-NeoPTimal website:
 

http://www.stago-neoptimal.com/ 
The PT test is the cornerstone of the coagulation discipline, representing over 50% of tests performed worldwide. 
Thanks to a LEAN based approach to cost reduction and improved patient safety, we are committed to supporting your need for a high performing reagent which is adapted to all types of laboratory workflows.
Cost & time saving for optimal management 
Range of 3 packaging sizes (5, 10 and 20 mL)
Flexible solution adapted to all types of laboratory activity 
"All in one": Solvent already provided in the kit, no pipetting or water required
Ease-of-use & reduction in source of error 
A reliable reagent with unique performances for standardised results 
The only tissue-extract PT; precalibrated reagent with an ISI = 1
Optimal sensitivity to changes in factor concentrations
Consistent INR results for better follow-up of patients on VKA therapy
Unique VBDS insensitive to analytical interferences (HIL samples)
Ensures accurate results
Instrument-specific ISI values assayed against international standards
Ensures quality results and patient safety
Maximum confidence & safety: a fully validated system 
Fully automated barcoded reagent management (ISI, lot number, expiration date, volume, onboard stability)
QC ranges for all Stago analysers 
Validated for evaluation of exogenous factors (II, V, VII and X) 
Automatic MNPT calculation with STA Coag Expert module
Time saving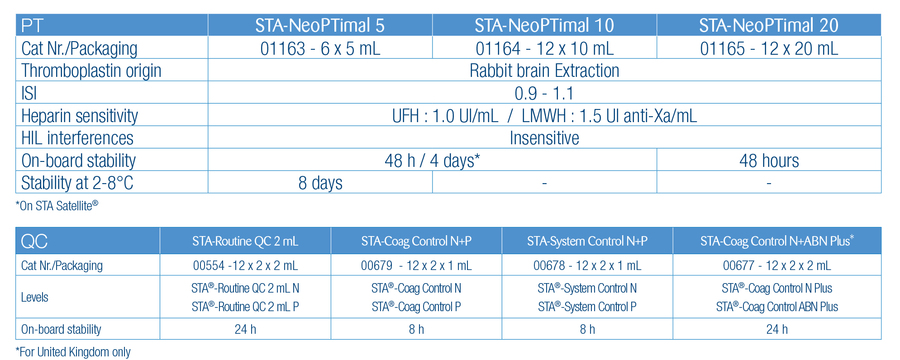 *Availability depending upon the country