Listening to and exchanging ideas with members of the biomedical science community has enabled Stago to develop its expertise in the search for solutions in such a way as to anticipate and integrate these changes.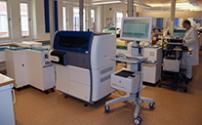 Technological change:

from manual analysis to complete automation; basic tests with increasingly specific parameters employing a variety of analytical principles

.
Organisational change towards "industrialisation" of clinical biology:


from local laboratories to regional technical centres and from specialized laboratories to automated central laboratories.

Regulatory change:

new requirements on the part of health agencies (FDA, AFSSaPS, SFDA, EMEA, PEI, TGA, etc); new quality specifications: certification / accreditation of laboratories
In 1987, the Stago Group turned a corner in terms of instrumentation and invested in the development of an attractive range of robust and effective analysers. The challenge was to place the knowledge of engineers at the service of clotting. 20 years later, industrial and development activities account for more than half of the company's staff and Stago now offers a complete and coherent range of systems (automatic analysers + reagents + consumables + service). The high-throughput STA-R system can be connected with the majority of commercially available Laboratory Automation Systems (chain / Track). It is in fact the only system to exhibit such polyvalence.
The structures of clinical biomedical science laboratories are becoming increasingly imposing, regulated and demanding in terms of services. One of Stago's key strengths is its consistent desire to develop a customer-oriented policy while never losing sight of its primary mission, namely contributing to "improvement of patient care". For this reason, Stago today has the structural resources needed to assist laboratories with their development: scientific and technical training, after-sales service, hotline, applications, scientific advice and advice on organisation, external quality control (ECQ), and assistance with accreditation, to name but a few areas. Stago offers a complete range of services dedicated to hemostasis.