Digital technologies are being used increasingly in the world of health, fundamentally transforming patient follow-up and care while encouraging their own involvement.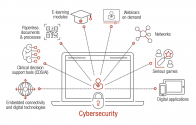 As a company operating at the heart of In Vitro Diagnostics, Stago is fully committed to this technological transformation. Its research teams are designingproducts and developing support and information tools for healthcare players using artificial intelligence (AI) and big data technologies.
In this context,cybersecurity has become an essential requirement, from the design phase through to system implementation in laboratories.
The digital transformation has implications at all levels of the Group.