Stago's corporate mission is to provide pathologists and clinicians with safe and efficient diagnostic solutions, to better understand, treat and monitor conditions involving blood coagulation disorders and hence improve patient management.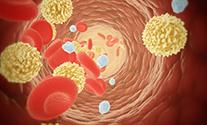 Stago operates in the In Vitro Diagnostics industry and is recognised worldwide for its expertise in the exploration of Hemostasis and Thrombosis.
Plasma Hemostasis: blood coagulation tests
Cellular Hemostasis: platelets, microparticles
Thrombin generation and global tests: dynamic approach to Hemostasis
Stago provides global and upgradable solutions that meet the needs of clinical pathology laboratories and healthcare services, including complete systems (analysers, reagents, disposables, middleware) and a wide range of services.