Stago is pleased to announce our latest innovative products: STA®-Edoxaban Calibrator and STA®-Edoxaban Control. In combination with STA®-Liquid Anti-Xa, they allow the measurement of Edoxaban plasma concentration.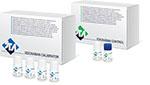 After dabigatran, apixaban and rivaroxaban, Stago enlarges its DOAC line with edoxaban. Being the only company with a specific assay for every DOAC, Stago remains your essential partner for laboratory anticoagulant measurement activities.
STA®-Edoxaban Calibrator and STA®-Edoxaban Control are dedicated reagents which enable the quantitative determination of edoxaban plasmatic concentration. The principle of the assay is the measurement of edoxaban direct anti-Xa activity in a competitive assay using a synthetic chromogenic substrate on STA-R® line and STA-Compact® line analysers, including the Max Generation.
This anti-Xa method already used in Apixaban and Rivaroxaban measuring assays is documented in the literature as a reference method for DOACs measurement. Specific, stable, and fully automated, it allows confident measurement in various clinical settings such as:


Prior surgery :limit of detection of 20 ng/mL
Emergency situation: Turn-Around Time < 6 min
Severe bleedings due to over dosage: measuring range up to 400 ng/mL
The assay is available 24/7 by using the STA®-Liquid Anti-Xa, a universal reagent used to measure UFH, LMWH, fondaparinux, as well as apixaban, rivaroxaban and edoxaban. The STA®-Liquid Anti-Xa reagent is stable for 7 days on board of instruments.
Developed in collaboration with Daiichi Sankyo, this assay for edoxaban measurement shows outstanding performance with high correlation (R2=0.99) to the reference LCMS method.
More than ever, for any anticoagulant testing there is a Stago solution.