32% of permanent contract vacancies were filled by internal mobility in 2013.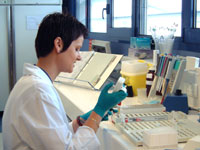 Whether to change team or business, move to another site, or take on more responsibilities, internal mobility reinforces the fruitful collaboration between the company and its employees:
on the one hand, Stago capitalizes on its talents and retains its know-how,
and on the other hand, the employee expands his competencies and versatility, while moving up in a known environment.
Internal mobility is simplified by the employee's efficiency, the experience acquired and their personal motivation to develop new skills.

As a strongly growing company, with over 50 job creations among the 155 permanent-contract recruitments, Stago offers varied career paths in different businesses.

New job offers are regularly published with emphasis on internal posting.  Employees can consult them directly and there is a mobility charter and practical fact sheets to assist them.